DID YOU KNOW...
that the best way to HAVE a good neighbor is to BE a good neighbor?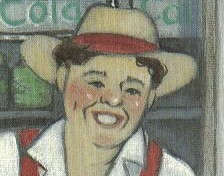 Mr. Boudreaux, (Boo-dro), is the owner of Boudreaux's Seafood Shack, which is the Bayou Town general store. He likes to cook and sing and visit with the many neighbors who boat to his store for groceries and supplies. He is the mayor of Bayou Town and a good friend. You will often find him at the end of his pier fishing with his son, Toby, and telling funny stories. Mr. Boudreaux's favorite family activity is to sit on the porch at night with Miss Marie and Toby and watch the fireflies.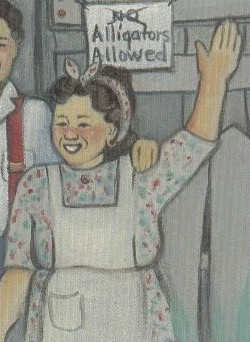 Miss Marie is Mr. Boudreaux's wife. She is very helpful to Mr. Boudreaux and the Bayou Town neighbors. She also runs the Boudreaux produce stand where she sells some of the delicious vegetables, fruit and herbs she grows in her garden. Sometimes, Miss Marie gets upset when Alfons scratches his back in her onion patch, but mostly, she is happy and singing and you will often see her and Toby, poling her little pirogue to help a neighbor down the bayou. Miss Marie's favorite family activity is sitting next to Mr. Boudreaux on the porch at night watching the fireflies.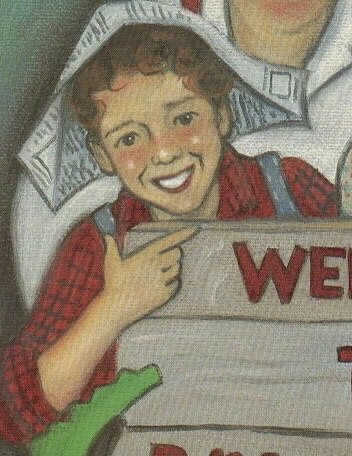 Toby is the Boudreaux's son. He is a student at the one-room Bayou Town schoolhouse. Toby's real name is Thibodaux, Toby is his nick-name. Mr. Boudreaux often calls him "T-boy", which means little boy. He often likes to play "pretend good pirates" up in his Kids' Club house with his friends and his pet alligator, Alfons. Toby likes math and reading, however, sometimes gets bored with practicing his handwriting. His favorite family activities are; fishing with his papa, reading with his mama and catching fireflies at night with them on the front porch.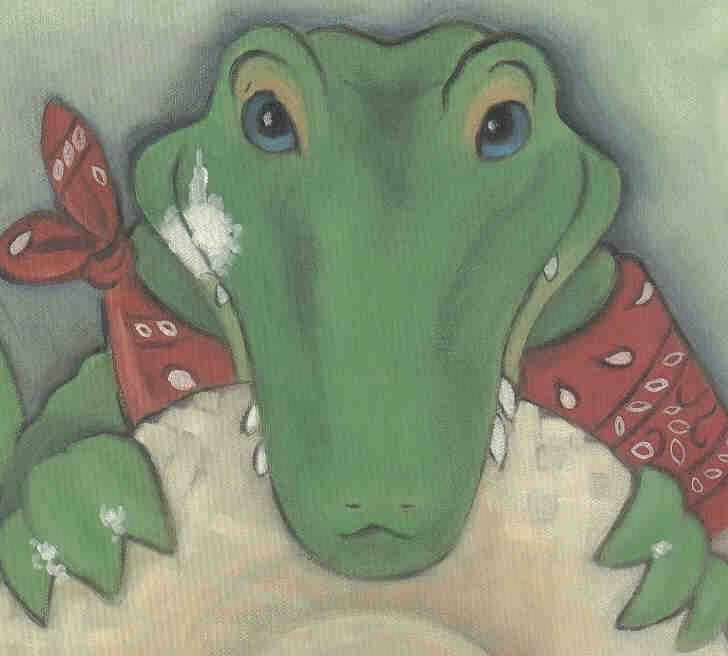 Alfons is the Boudreaux family pet alligator. Although most alligators are NOT friendly, Alfons likes to have fun and is very playful. His favorite game is "Alligator Keep Away", where he snatches something that belongs to someone else, and everyone chases him to get it back. Alfons likes being caught, he often does this just to get everyone to play and have some fun. His favorite snacks are marshmallows and cookies and often finds himself in trouble for having taken them from Toby's treasure chest. Alfons' favorite family activity is helping Toby catch fireflies and eating marshmallow rewards on the porch at night.
Cher, (sha), is our narrator friend who takes us on journeys to Bayou Town. She lives with her family on the River Road, just down the levee from Bayou Town. Mr. Boudreaux and Cher's daddy are cousins (twice removed - most people are related in Bayou Town.) Cher does not go to the Bayou Town School because her mama teaches her and her 2 brothers and sisters at home in their little farm house. Cher and Toby are good friends, and cousins, (3 times removed.) One of her favorite activities to do is to spend the night with the Boudreaux family and join in the front porch sing along.
Pepere, (puh-pair, grandfather), and Memere, (me-mair, grandmother), are Mr. Boudreaux's parents. They live up the bayou near the river. They often pole their pirogue, (pee-rohg, dugout), down to Mr. Boudreaux's shack to lend a hand with the general store and Marie's garden. They enjoy helping the family. Memere likes to teach the children the "old ways" of bayou life and Pepere loves to tell stories. One of their favorite activities is to call for a "coup du main", (lend a hand). That's when all the family and friends gather to help a friend or family member. You will often see Pepere near the bonfire telling one of his favorite stories of the "old settlement" days.
Parrain, (pa-ran, Godfather), is Mr. Boudreaux's brother. He and his wife, Tante Yvette, and their five children live up the bayou near Pepere and Memere. Parrain owns a shrimp boat and trawls for shrimp. He and Mr. Boudreaux are more than brothers - they are true friends. Parrain enjoys bringing some of his catch, (shrimp, fish and crabs), to Mr. Boudreaux's shack, where they boil them and have a family fais-do-do. (That is a party with special food and music.) Parrain likes to dance with the t-bebe's, (little babies), while Pepere plays his accordion and Mr. Boudreaux plays the spoons.
Aunt Carol is Miss Marie's older sister. She lives with her husband Harold in Ville Platte. Aunt Carol often comes to visit Miss Marie and insists on helping with all the chores. She seems to know something about everything. But, ma cher! When Aunt Carol forgets to turn on her hearing aid, things get very confused and very funny! Miss Marie says, Aunt Carol may be difficult sometimes, but she has a good heart, and you can't help but love her BIG!



Now, my friend, don't forget to tell us all about yourself, our NEW neighbor!
Go to the KIDS' CLUB page, click on the beehive to send us an E-mail
and tell us about YOUR family! We look forward to reading all about Y-O-U!