Bayou Town Nature Trail is a place for us to share with you important issues and suggestions to help preserve some of our most precious gifts from the Lord, our natural resources . Together with the Department of Environmental Quality and other friends in conservation, we help to educate the public about the importance of being a good steward of these resources. Please continue to visit this page, as we will include some very important information about things you can do to help lessen risks and activities you can use with your student(s) in the classroom. (Visit the Kids Club Activities page to print 3 fun watershed activities. This page also includes a glossary.)
Please click on the link above to learn more about WATERSHED HARMONY, the environmental mobile classroom presented for the Mississippi Department of Environmental Quality. This program was being performed by BAYOU TOWN Productions throughout the state of Mississippi, helping students to learn about the importance of water quality.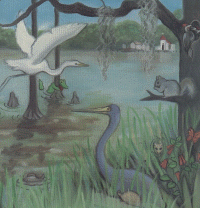 DID YOU KNOW...
...that less than 1% of all of earth's water is drinkable and most of that water is stored in the ice caps and lakes in only a few regions of the world?
...that we have the exact same amount of water on earth today since the creation of the world?
...that today, you might drink some of the water a dinosaur drank thousands of years ago?
All of earth's water is continually recycled through the water cycle. It's our responsibility to help keep it clean and healthy. How can you help? Here is a list of 12 things you can begin doing today to be a Water Quality Steward in your neighborhood.
Water Quality Steward Checklist
Put litter in its place.
Never dump trash or chemicals into the water.
Never dump anything down the storm drain.
Wash cars at a car wash or on grass using a minimum of chemicals.
Plant ground cover in bare spots or use mulch to prevent erosion.
Plant hardy trees, and plants that use little water or pesticides.
Don't cut shrubs and trees along streams.
Recycle and dispose of household chemicals at a collection center.
Repair auto leaks.
Report chemical leaks and spills.
Help with neighborhood cleanups.
Tell others what they can do to lessen polluted runoff.
This list is provided by the
Mississippi Department of Environmental Quality.